.The Veehives (2015)

Digital video, chicken wire, pantyhose, staples, fiberfill, quilt batting, red LED lights, small speakers, pocket projectors, watercolor paper
The Veehives bring a dark undertone to the female body and the rules and regulations that seem to come with it. In Queen Vee: Hive Maintenance,I use found footage of a pap smear and a voice over with a high pitch manipulation to act out and relive the phrases and conversations that I have had with many different doctors and nurses in my life, thus far. My family was on Medicaid when I was growing up, so I could only go to doctors who would accept Medicaid or were income-based clinics. In my experience, many of these facilities are over crowded and underfunded, sometimes leaving me to feel like a science project for hospital's students. The hive "maintenance" is a play on the annual exams women are encouraged to have to catch things like STD's and cervical cancer.

In "Hive Etiquette", I record the viewer looking inside of the hive, while a voiceover tells them that they are being allowed in, and to be careful how they treat the body they have been given access to.
The hive is a direct metaphor for the female womb. The bees are both the sustainers of the womb and the threat. Biologically, the female body can potentially produce another life, but it is also a breeding ground for potential shame, inconvenience, and unwarranted governance. The bees are a symbol of the sometimes-dormant threat of illness, politics, and self-critique.
The viewer walks up to the hanging hives, which resemble large female genitalia. The viewer can spread the opening to peer inside, as if they are the gynecologist. The projectors are hidden, and all that can be seen is the tunnel to the projection. Bees are projected on the outside of the hives. Small, fleshy, mounds along the floor serve as speakers for the sound of bees buzzing.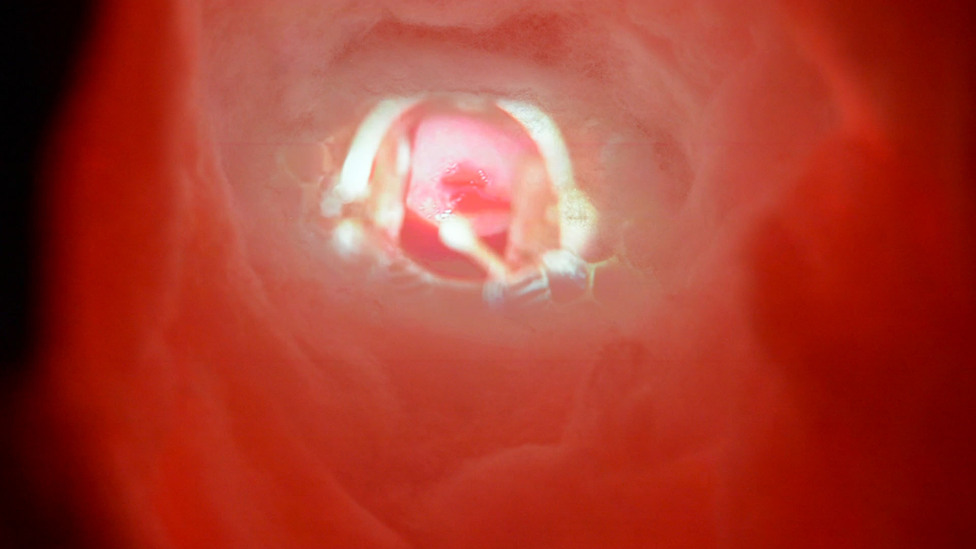 Closeup view looking inside of "Queen Vee: Hive Maintenance" with video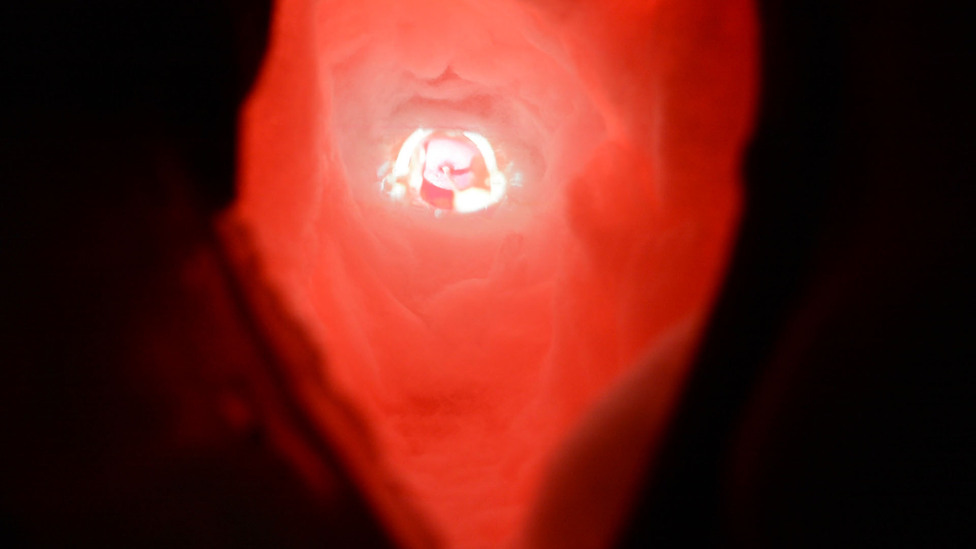 2nd view of the inside of "Queen Vee: Hive Maintenance"
Installation view of The Veehives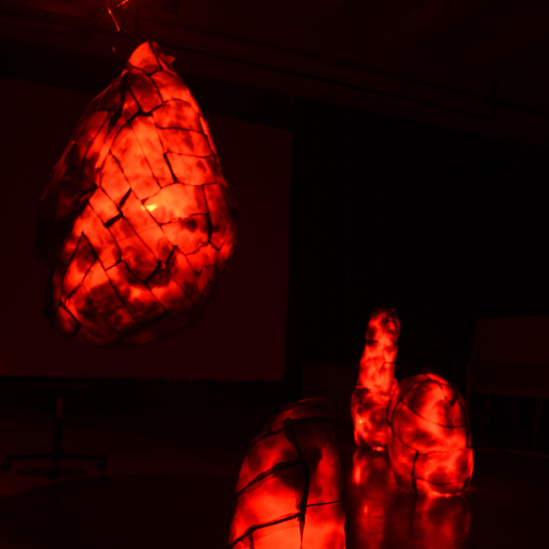 Closeup of sculptural speaker
Video documentation of "Queen Vee: Hive Maintenance" with sculpture and projection